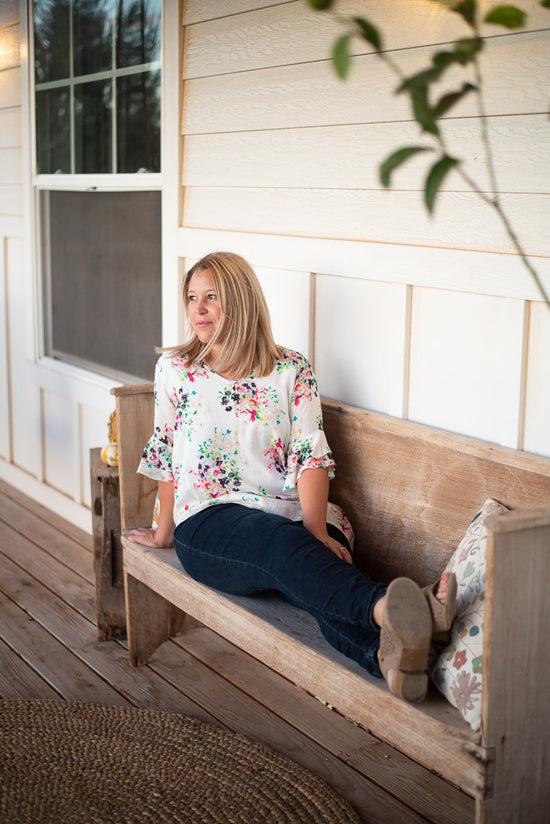 Bouquet Blouse
Product Description
Description

Return Policy
Description
100% Rayon.
White with a Beautiful floral Pattern.
Has a wide V neck with bell-shaped half-length sleeves. 
This Blouse does not have a longer length in the body of the blouse. If you have an average length to short torso this blouse will flatter you on top and draw people's eyes towards your face. 
This top flatters rectangular shapes as well as triangle shapes. This blouse helps balance out your body shape and help you look more curvy. 
The wide neckline and v in the neck help make your shoulders look wider and even out a smaller chest and shoulder line. 
Tie in back.
Super airy and soft fabric.
For a loose fit go true to size. For a more fitted look size down.
HAND WASH COLD!
Hand wash under cool water with a small amount of gentle laundry detergent. Swish in the water and only scrub or agitate aggressively if there is a spot to get out. 
Rinse thoroughly with cool water. Lay flat to dry. do NOT wring out. gently squeeze. 
Return Policy
Return Policy You may return your item for a refund or exchange as long as it is within 60 days from when it shipped. The item must be in the original unused condition OR barely worn quality. Please include the name you used when you placed the order on the items you would like to return. You will be refunded to the card you used when placing your order. Refunds take up to 5-10 business days to hit your account. There will be no refunds or exchanges after the 60 days. If you would like to exchange an item please contact us at support@everydayedenboutique.com and let us know what size you would like to exchange. All returns can be sent to the return address on your shipment!