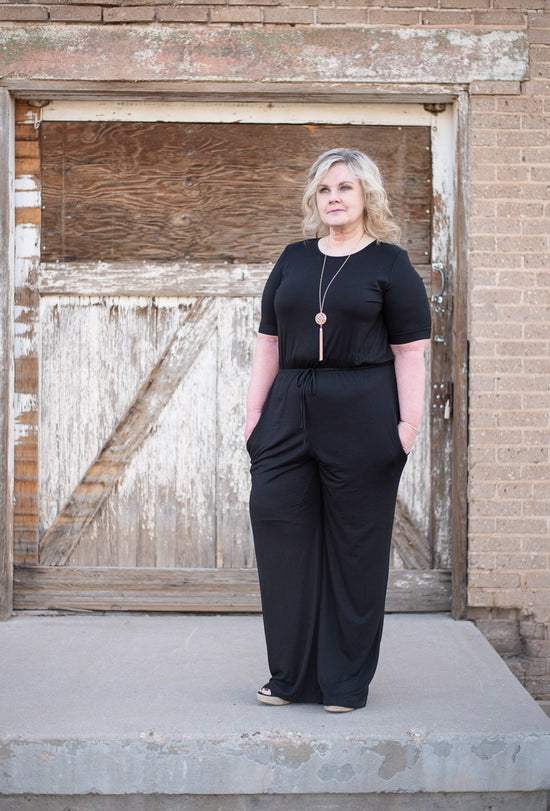 Flamingo Romper
Product Description
Description

Return Policy
Description
Need a Versatile yet professional wardrobe piece that not only looks great but feels even better?
Our Flamingo Romper is a go to choice!
Made with Jersey material, it is plush against the skin and easy to wear. The pockets are in the perfect spots for your keys or hands when you have no idea what to do with them. Tie in front at waist, adds a little accent and detail to this glorious fitting Romper. 
Just enough stretch to really flatter you and still look great. Try one on today and never look back to the nineties again. 
Right? I mean, my first romper was one my mom made for me in fifth grade, the entire front had Velcro going down it, so I had easy bathroom access. She was a genius that mother of mine. 
Our romper does not have Velcro going down the entire front, but let me tell you the teardrop opening in the back and the stretch in the material is perfect for being able to get in and out of it without worrying you won't make it the throne of all thrones in time. 
Cuz we all know after having kids we have way more bathroom issues than a fifth-grader, right?!?!
Flamingos are graceful birds, with elegant necks and legs and very impressive wings. 

They stand out among other birds as their unique features come into play. 
Buy a Flamingo Romper Today, Add it to your closet and begin to STAND OUT!
Return Policy
Return Policy You may return your item for a refund or exchange as long as it is within 60 days from when it shipped. The item must be in the original unused condition OR barely worn quality. Please include the name you used when you placed the order on the items you would like to return. You will be refunded to the card you used when placing your order. Refunds take up to 5-10 business days to hit your account. There will be no refunds or exchanges after the 60 days. If you would like to exchange an item please contact us at support@everydayedenboutique.com and let us know what size you would like to exchange. All returns can be sent to the return address on your shipment!