Chokecherry Turtleneck Sweater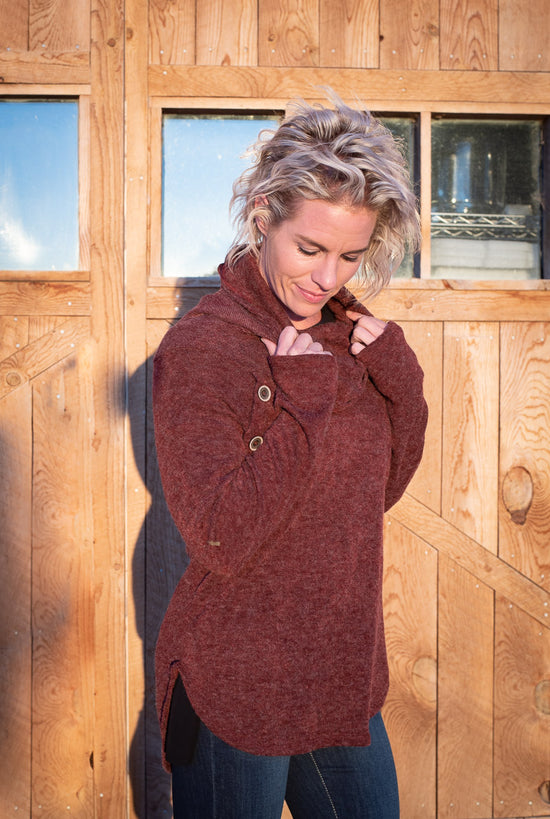 Chokecherry Turtleneck Sweater
Product Description
Description

Return Policy
Description
Too cold for just a shirt, but not cold enough for your coat yet?
This Sweater is perfect for keeping you warm, yet light enough to layer when you do need to put a coat on. 
Our Chokecherry Sweater has long sleeves that goes a tiny bit passed your wrists. Its loose folding turtle neck adds a classy timeless look.  
Sweet button detail runs diagonally on both sides of the bodice. Which draws attention both to the sweater and to your beautiful face. 
This Sweater is extra long in length qualifying it as a tunic.
The Chokecherry Turtleneck runs true to size and has a flattering fit.
Great for fall and winter weather.
It would look fabulous with skinny jeans or leggings and some boots. 
BURGUNDY
This sweater is anything but bitter, but the color is pretty darn close to the color of chokecherries. This sweater has the appearance of wool but it is not prickly or itchy, it is soft and comfortable.

Add it to your closet today and enjoy the fruits or your closet!
Return Policy
Return Policy You may return your item for a refund or exchange as long as it is within 60 days from when it shipped. The item must be in the original unused condition OR barely worn quality. Please include the name you used when you placed the order on the items you would like to return. You will be refunded to the card you used when placing your order. Refunds take up to 5-10 business days to hit your account. There will be no refunds or exchanges after the 60 days. If you would like to exchange an item please contact us at support@everydayedenboutique.com and let us know what size you would like to exchange. All returns can be sent to the return address on your shipment!