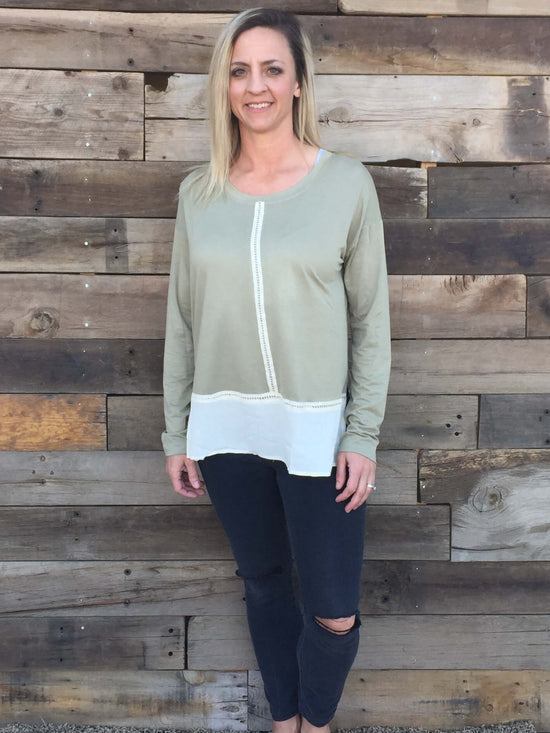 Blocked Bottom Blouse
Product Description
Description

Return Policy
Description
Spandex. lightweight fabric allows for wearing multiple seasons of the year. 
Long sleeve. If your arms are a point of insecurities these long sleeves have you covered, If you have extra long arms these sleeves are extra long in length and cover them well!
Decorative Lace down middle. This lace draws attention to your torso, and also draws attention to your hips with the color-blocking. If your shoulders are broader than your hips (inverted triangle shape) than this helps balance out your body. 
Color-blocked which means it is mostly sage green with the appearance of an ivory blouse underneath. Color blocking helps to break up your body.
If you are very tall or if you are slightly overweight color-blocking with two colors can help make you look not quite as tall, or help even out the weight that you carry. 
Return Policy
Return Policy You may return your item for a refund or exchange as long as it is within 60 days from when it shipped. The item must be in the original unused condition OR barely worn quality. Please include the name you used when you placed the order on the items you would like to return. You will be refunded to the card you used when placing your order. Refunds take up to 5-10 business days to hit your account. There will be no refunds or exchanges after the 60 days. If you would like to exchange an item please contact us at support@everydayedenboutique.com and let us know what size you would like to exchange. All returns can be sent to the return address on your shipment!