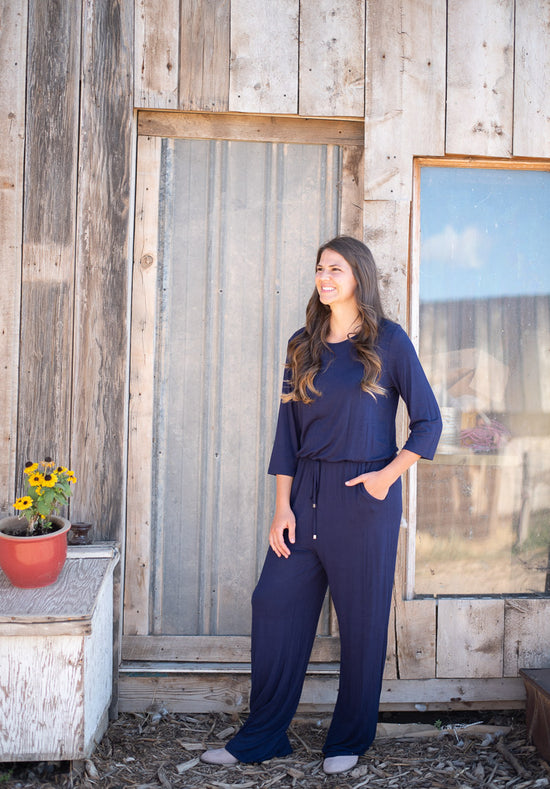 Annabelle Romper
Product Description
Description

Return Policy
Description
Tired of wondering what to wear to work? Wanna look fabulous but feel great?
Try this Romper and meet the best of both worlds!
SIMPLE. This Romper is an outfit all by itself. Accessorize or don't and you'll look great and feel amazing. 
CLASSY. With Flattering lines like a round neck and straight leg fit, the Swallowtail Romper is beautiful on so many body types. The 3/4 sleeves aren't too tight and give this romper a very flattering look. In Navy blue or Black this romper will stay in style for a long time keeping it's graceful fit on your body.
EASE. Worried about getting a romper on and off? Believe us we know the feeling. With 12 kids between the three of us, being able to easily get this Romper on and off is very important. With an elastic waist and a loop button hole at the back of the neck, this romper is smooth going on and easy off. 
VERSATILE. While this Romper is dressy enough to wear to work, or a nice dinner, it's comfortable enough you won't wanna take it off to relax at home. The knit rayon blend gives it such a nice feel you won't want to take it off at all!
While this Romper runs True to size we suggest sizing UP with rompers. It will not look bad to have it be a little too big, but it will look bad if it's a little too small.
Get a Romper today and Transform your wardrobe into a useful but beautiful place!
Return Policy
Return Policy You may return your item for a refund or exchange as long as it is within 60 days from when it shipped. The item must be in the original unused condition OR barely worn quality. Please include the name you used when you placed the order on the items you would like to return. You will be refunded to the card you used when placing your order. Refunds take up to 5-10 business days to hit your account. There will be no refunds or exchanges after the 60 days. If you would like to exchange an item please contact us at support@everydayedenboutique.com and let us know what size you would like to exchange. All returns can be sent to the return address on your shipment!