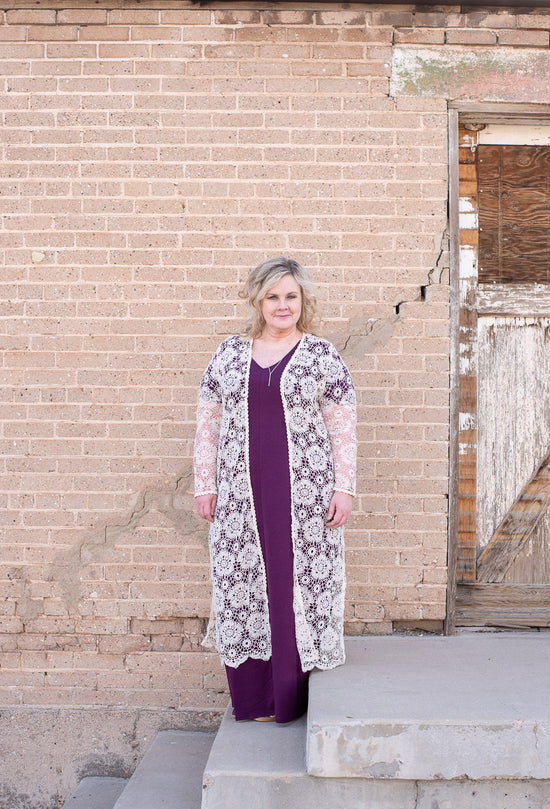 Crochet Plus Size Duster
Product Description
Description

Return Policy
Description
Embroidery Crochet Long Open Duster.
Plus Size.
Beautiful!
Natural Color.
Pair with jeans and a blouse, a dress, or skirt and blouse combo. Dress up any outfit.
Stunning accent piece for any wardrobe. Intricate design displays a beautiful pattern and helps to bring creativity and feminine touch to monochromatic outfits such as this max dress. 
This Duster would be great for all Plus Size body shapes. It draws the eyes away from trouble areas and adds detail to the areas you would like to stand out. 
Add a Duster to your wardrobe today and watch your simple one or two colors outfits come alive with detail!
Return Policy
Return Policy You may return your item for a refund or exchange as long as it is within 60 days from when it shipped. The item must be in the original unused condition OR barely worn quality. Please include the name you used when you placed the order on the items you would like to return. You will be refunded to the card you used when placing your order. Refunds take up to 5-10 business days to hit your account. There will be no refunds or exchanges after the 60 days. If you would like to exchange an item please contact us at support@everydayedenboutique.com and let us know what size you would like to exchange. All returns can be sent to the return address on your shipment!