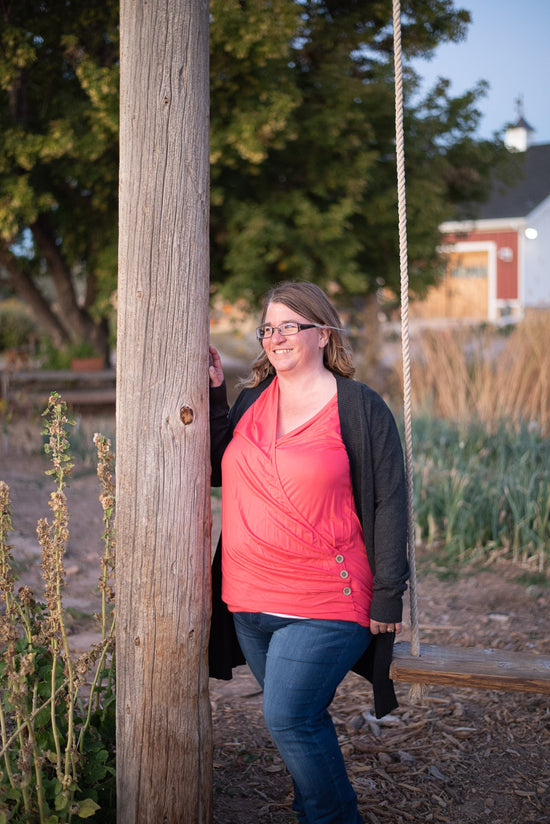 Busy Lizzie Top
Product Description
Description

Return Policy
Description
Solid color top- wearing one solid color can give a slimming effect. Choose a color that compliments your skin tone and this top with have a slimming effect on you!
Short-Sleeve Top- True short sleeves hide your shoulders from view, if you are self-conscious about your shoulders then these sleeves take care of that discomfort. 
Surplice Top- a v neck wrap top is a surplice top. This is a very flattering top for people who are tall and have trouble with their midsection. Is you do not have a well-defined waist a surplice top gives you a more slender look and brings attention to your waist.
Button detail on the side bottom. This detailing adds attention to the wrap accent and allows your waist to stand out. If you are very tall or do not have a defined waist this gives your waist a slimming effect. 
If you have a very short torso this top will end up making you look even shorter, unless you pair it with some cute solid color leggings or nice trousers. 
Add this Busy Lizzie to your closet today and look great in this amazing surplice top. 
Return Policy
Return Policy You may return your item for a refund or exchange as long as it is within 60 days from when it shipped. The item must be in the original unused condition OR barely worn quality. Please include the name you used when you placed the order on the items you would like to return. You will be refunded to the card you used when placing your order. Refunds take up to 5-10 business days to hit your account. There will be no refunds or exchanges after the 60 days. If you would like to exchange an item please contact us at support@everydayedenboutique.com and let us know what size you would like to exchange. All returns can be sent to the return address on your shipment!