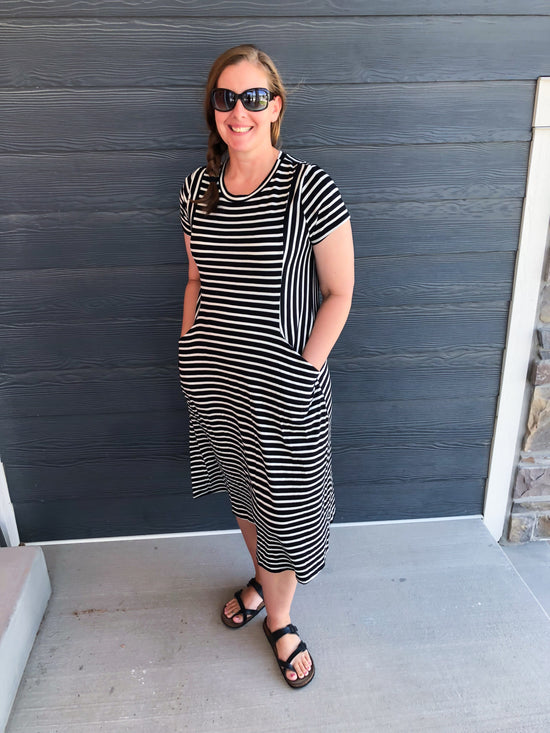 Zebra Stripe Dress
Product Description
Description

Return Policy
Description
Wanna Stand out and still feel relaxed?
This Black & White Striped Pocket Dress has a very relaxed and comfortable fit and will catch a lot of attention!
The side Pockets allow you to bring along items and ditch your purse. Or bring your purse and enjoy a cozy place to keep your hands. 
Stripes run horizontal the length of the dress and vertical from armpit to pockets on the side. 
The Zebra Stripe Dress' Midi length and Light Weight Fabric are perfect for summer, or pair with booties and a cardigan to transition to fall and winter. This will be a comfortable favorite for the long time! This Dress runs true to size. Your normal size should fit you very nicely. 
95% Rayon 5% Spandex blend makes for great hanging fit and for hardiness in keeping it's shape wash after wash.
Zebras are famous for their black and white stripes. If you look closely at them though, most Zebras have vertical stripes on the majority of their body and then on their legs the stripes run horizontally. Stripes that go two directions. JUST LIKE THIS DRESS. 
Zebras are incredibly amazing creatures that support one another, protect each other and LOOK amazing. 
Add the zebra stripe dress to your garden closet today and add an amazing look to your wardrobe!
Return Policy
Return Policy You may return your item for a refund or exchange as long as it is within 60 days from when it shipped. The item must be in the original unused condition OR barely worn quality. Please include the name you used when you placed the order on the items you would like to return. You will be refunded to the card you used when placing your order. Refunds take up to 5-10 business days to hit your account. There will be no refunds or exchanges after the 60 days. If you would like to exchange an item please contact us at support@everydayedenboutique.com and let us know what size you would like to exchange. All returns can be sent to the return address on your shipment!